Touch Type Read and Spell (TTRS)
Special 10% discount:

Subscriptions can be cancelled at any time and TTRS also guarantee a 30-day refund policy on all plans. Simply email support@readandspell.com to receive a full refund.
TTRS is designed to benefit:
- Students in Primary and Secondary schools who experience spelling, reading or writing difficulties
- Adults requiring help with their literacy skills
- Students learning English as a second language (ESL)
Use Coupon code: KAS869
| | |
| --- | --- |
| | For over 25 years, TTRS has offered a comprehensive touch-typing course based on a structured program of phonics. The program aims to build literacy skills and increase confidence and self-esteem in users as they master the art of keyboarding. Because it takes a multi-sensory approach to tuition, TTRS is also suitable for users who struggle with physical impairments and specific learning difficulties, like dyslexia. |
My son has slow writing, is dyslexic, dysgraphic and a visual learner. TTRS has allowed him to at last realise his potential and show how intelligent he is- Louise Venning Parent
Children like TTRS. It gives them the instant reward of seeing their scores improve and the progress they've made. At our school we mainly use it with dyslexic children and struggling writers. Helen Holmes teacher


For the past 25 years, TTRS has been helping learners with dyslexia feel and be more successful at the keyboard. The course takes an Orton-Gillingham-based approach to typing, featuring a multi-sensory program of phonics that builds reading and spelling ability, along with computer skills. TTRS is appropriate for learners aged 8+ to adult. British Dyslexia Association
Why TTRS is so effective
- Designed to encourage success from the start Highly structured yet flexible approach 24 course levels, each of 31 modules - 4,000 words in all Incorporates structured word lists from the book 'Alpha to Omega' by Beve Hornsby
- Based on the Multi-sensory Orton and Gillingham approach to reading and spelling Uses a unique, multi-sensory, phonics-based approach, developing literacy, confidence and self-esteem with measurable success right from the start
- Supported by a substantial number of research papers, user testimonials, and specialist articles Proven worldwide for 21 years – in thousands of schools, homes, colleges, and charities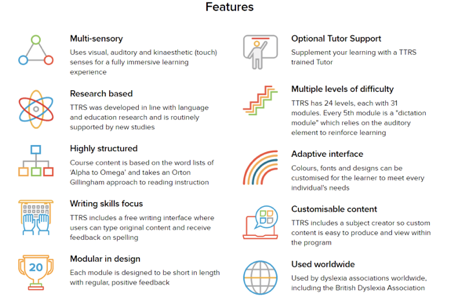 WHY PARENTS, CHILDREN AND ADULTS LOVE THIS
TTRS is modular in design containing 24 levels with 31 modules in each level. A module typically takes a few minutes to complete. Success is encouraged by immediate feedback and positive reinforcement.
TTRS teaches phonics in context and at the same time the student is learning how to touch-type. With repetition, these words move from short-term to long-term memory
TTRS can be used on any desktop or laptop computer. There is also an iPad app for learning on the go
TTRS is an online course requiring no installation. The iPad app also comes with an offline mode
It builds focus and concentration
It boosts confidence and self-esteem
It doesn't look or feel like a literacy solution
Open a writing session inside TTRS and get post-session feedback on spelling & typing performance
There's maths practice too
Trophies & Weekly targets motivate learners and encourage regular use of the program
TTRS Reporting means you can track performance with our new simplified app that lets you follow a child's progress on your smartphone
It requires minimal supervision
The whole family can use it.
WHY SCHOOLS LOVE TTRS
Students learn to type and benefit from improved spelling ability and a boost in reading fluency due to an underlying phonics program that informs core content
There's no complicated training required and it is quick and easy for teachers to get set up on the platform. The intuitive and simple interface also means students can easily set up their profile and start typing right away!
TTRS offers a flexible solution that can be used for classroom-based learning & homework assignments. It also offers parents the chance to reinforce literacy skills at home and take a more active role in their child's learning
Dashboards and reporting apps allow teachers to monitor student progress and see which words and spelling patterns they are struggling with
It encourages self-directed learning as students require less guidance
It caters to different ability levels. TTRS is self-paced and can be customised to meet the needs of every learner, from those on the autistic spectrum to learners with visual or hearing impairments and students who struggle with dyslexia, dyspraxia or attention-based difficulties
Some teachers can't touch-type. TTRS offer FREE unlimited teacher accounts with all our accounts. Teachers have full access to their own course and can be assigned to monitor classes
If your students enjoy learning the TTRS way, they can take maths, English, and science lessons too! Typing modules practise key vocabulary and concepts, help with hard-to-spell words, and boost reading fluency
Have students write inside TTRS and get post-session feedback on spelling & typing performance
Home use: can be individual or for family use
Schools: cost per student decreases the more students who use TTRS. Small schools may qualify for a discount
Use Coupon code: KAS869
Testimonials
My daughter has dyslexia. I like the auditory, visual and tactile nature of the TTRS program because it helps with her short-term memory issues. Anne Stahl parent
This program is straightforward and easy to navigate. We have had an excellent experience moving through the levels and seeing regular progress. My son has become more confident not only in his keyboarding skills but also in his decoding and reading. Mark Goodwin parent

Read many more testimonials here; https://www.readandspell.com/testimonials-and-reviews
Watch this short information video: https://www.readandspell.com/?wvideo=brh8tj1wev
E-mail:
karen@dyslexiasupportservices.com.au