School Inclusion Questionnaires
School Improvement Questionnaires for Primary Schools – Diversity and Inclusion

There are 4 different questionnaires within this set. They are intended for schools to use with their school community to audit what they are doing well and what needs developing in terms of inclusion and meeting the needs of students with learning difficulties. The questionnaires are intended for Senior Managers, Teachers, Parents and Students.

Price $10 for lifelong use
The responses to the questionnaires will help schools determine what they doing well, what needs to be developed and also to prioritise developments.

They are concerned with inclusion with a particular emphasis on literacy although special reference to literacy could be deleted if preferred. The questionnaires for parents and students could be used with two school years only e.g. years 2 and 5.
The questionnaires may be sent out at the beginning of the school year and then reviewed at the end. Some schools prefer to send these out towards the end of term 1 to give everyone a chance to settle in. Each school can consider when to send out the questionnaires but it is recommended that they are reviewed a year after.
Additional questions can be added or others extracted. You may want to change terms according to those used by your school. The school has lifelong use of the questionnaire however it must not be shared with others schools even if you remix, transform, or build upon the material, you may not distribute the modified material except to your school community.

Attribution — You must give appropriate credit to the author of the resource, and indicate if you have made changes to the licensed material.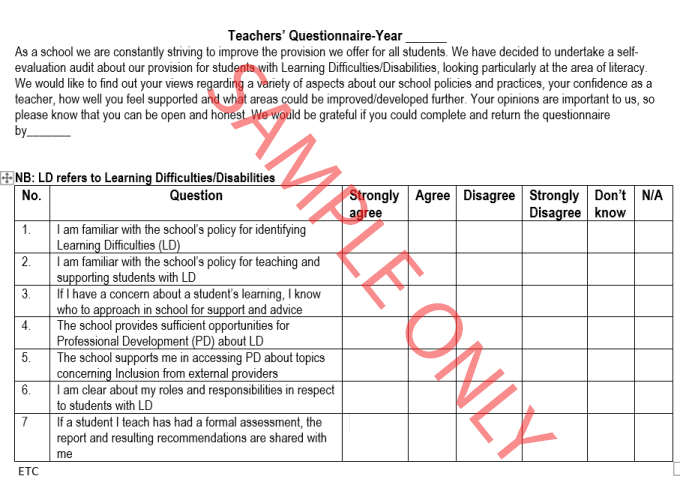 E-mail:
karen@dyslexiasupportservices.com.au