Employers: Create an accessible workplace
Contact Karen Starkiss to book a workshop or consultation
Research has suggested that approximately 4% of the workforce is severely dyslexic and a further 6% is mildly to moderately dyslexic so it stands to reason that most organisations will have employees who are dyslexic or will have additional needs. There is still a stigma attached to the term dyslexia, which is why so many employees don't disclose for fear of being 'found out' and losing their jobs. As a result you won't unlock the true potential of your workforce, increase motivation or productivity.
There are many quick and cost effective adjustments and accommodations an employer can provide to make the workplace fully inclusive. A, 2 hour training session may be all you need to help you make those changes and for everyone to reap the rewards. Download our flyer or contact us on 0402225051 to tell us your needs and to find out more.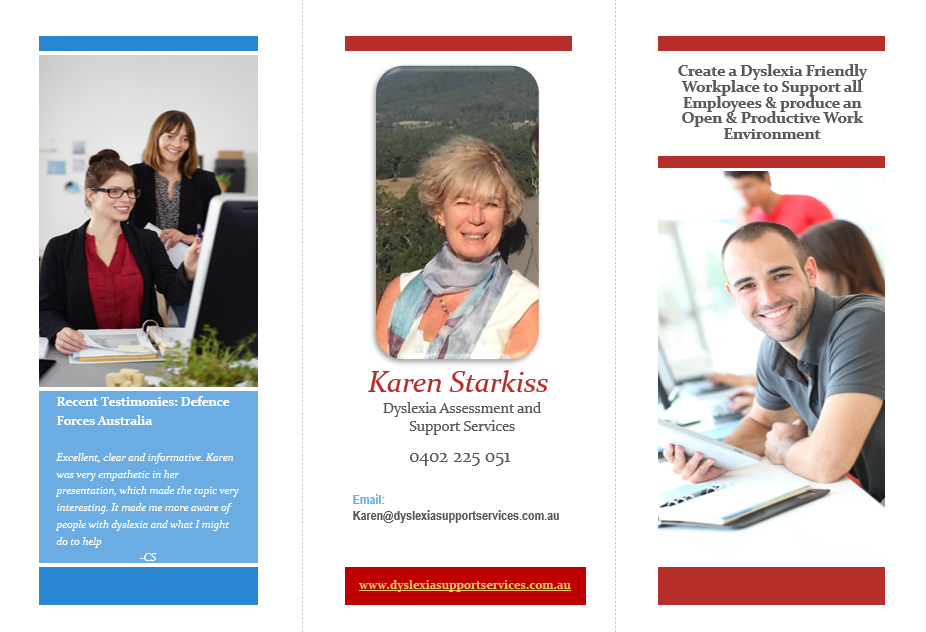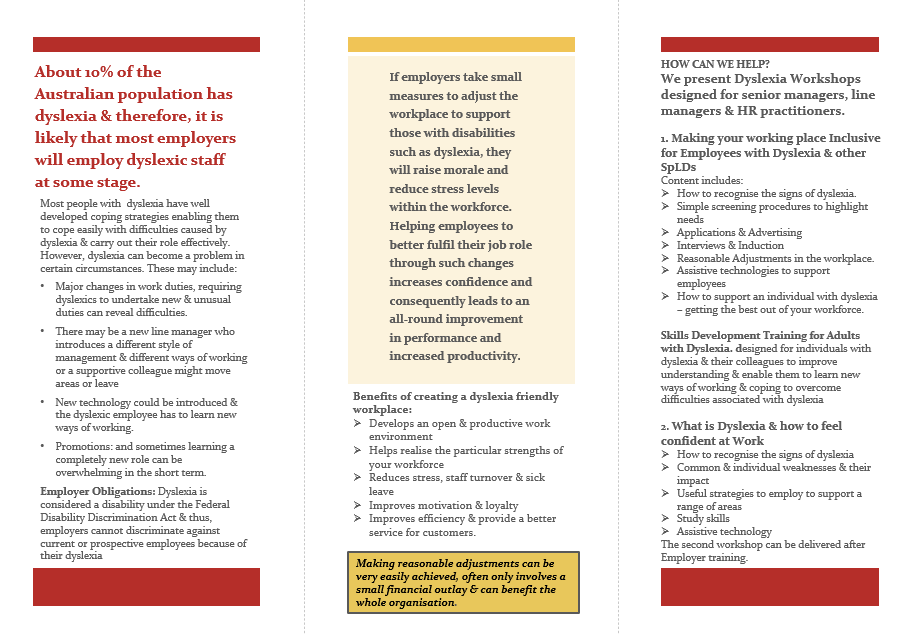 Download and Print Flyer here
Testimonial
- MLC Life Insurance
Karen from Dyslexia Support Services Melbourne presented at MLC Life Insurance in Melbourne on the topic of dyslexia to a mixed group of life insurance team leaders in January 2018. Karen's presentation, which I also attended, was incredibly well received by the group of predominantly young managers who took away a greater understanding of how to identify and manage dyslexia in the workplace. The presentation was highly informative, engaging and fun owing to Karen's passion and vast knowledge of dyslexia.
Karen also had a one on one consultation with one of our team members who was diagnosed with mild dyslexia following the group presentation. She recommended some effective but simple coping strategies to enable the team member to best manage her symptoms.
I would highly recommend Karen to any large business or corporate and would happily have her back at MLC in future years to come.
Regards
Elliott Mitchell
Consultant
Employment Relations, Health, Safety & Wellbeing
MLC Life Insurance
Level 16, 727 Collins St, Docklands 3008 Australia
see full letter with Letterhead here
Testimonial
- GOTAFE
"Karen is a wonderful presenter and facilitator and came to the session with a wealth of knowledge about how to support students with disability and specifically, dyslexia. Karen didn't just present the theory, but also explained practical measures for supporting students with disability and dyslexia in the classroom. We wanted to raise awareness at GOTAFE, we got that, and so much more with Karen. Our Trainers and Assessors and support staff walked away with additional tools to support students with disability and dyslexia at GOTAFE. Thank you Karen, looking forward to having you back."
Thank you,
Testimony- Defence Forces Australia
;
Excellent, clear and informative. Karen was very empathetic in her presentation, which made the topic very interesting. It made me more aware of people with dyslexia and what I might do to help
-
CS
Contact Karen Starkiss to book a workshop or consultation

Preparation of Written Material/Handouts for Education Institutes and Employers
Dyslexic students and/or employees often find it difficult to extract information from written materials including handouts for a variety of reasons. Find out how to prepare written material that will help many students and can be put into place to make accommodations that will not single out people with LD.mIn addition, this explains how to prepare written information to be read using text to speech software and how to make web design easier to access.onies: Defence Forces Australia
Excellent, clear and informative. Karen was very empathetic in her presentation, which made the topic very interesting. It made me more aware of people with dyslexia and what I might do to help
-CSest: Defence Forces Australia
Excellent, clear and informative. Karen was very empathetic in her presentation, which made the topic very interesting. It made me more aware of people with dyslexia and what I might do to help
-CS
Karen Starkiss © 2010 |Important Information, Terms and Conditions of Use and Privacy Policy