Employers: Create an accessible workplace
Research has suggested that approximately 4% of the workforce is severely dyslexic and a further 6% is mildly to moderately dyslexic so it stands to reason that most organisations will have employees who are dyslexic or will have additional needs. There is still a stigma attached to the term dyslexia, which is why so many employees don't disclose for fear of being 'found out' and losing their jobs. As a result you won't unlock the true potential of your workforce, increase motivation or productivity.
There are many quick and cost effective adjustments and accommodations an employer can provide to make the workplace fully inclusive. A, 2 hour training session may be all you need to help you make those changes and for everyone to reap the rewards. Download our flyer or contact us on 0402225051 to tell us your needs and to find out more.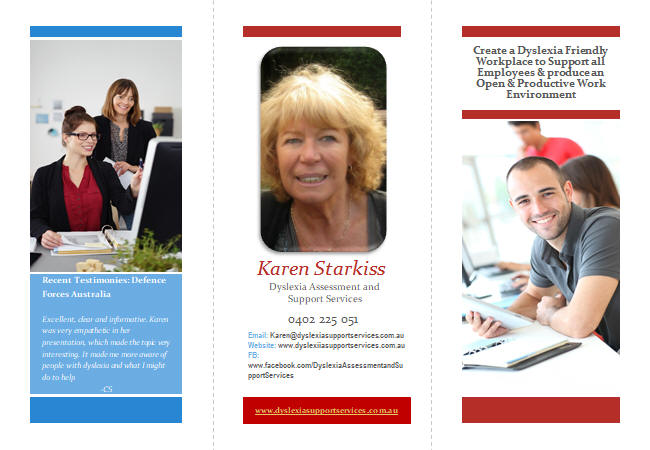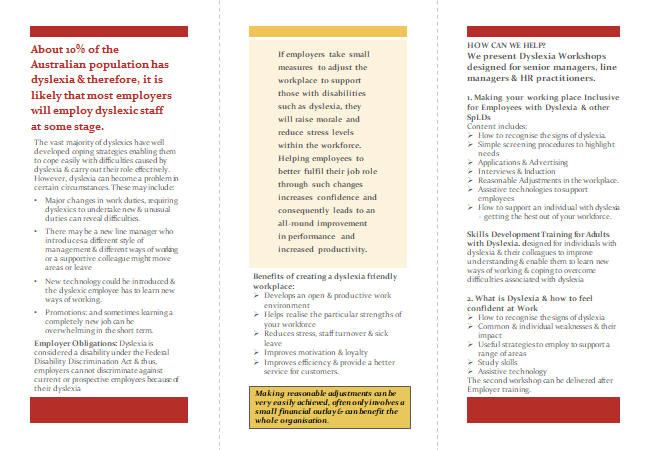 Download and Print Flyer here
Testimony- Defence Forces Australia
;
Excellent, clear and informative. Karen was very empathetic in her presentation, which made the topic very interesting. It made me more aware of people with dyslexia and what I might do to help
-
CS

Preparation of Written Material/Handouts for Education Institutes and Employers
Dyslexic students and/or employees often find it difficult to extract information from written materials including handouts for a variety of reasons. Find out how to prepare written material that will help many students and can be put into place to make accommodations that will not single out people with LD.mIn addition, this explains how to prepare written information to be read using text to speech software and how to make web design easier to access.onies: Defence Forces Australia
Excellent, clear and informative. Karen was very empathetic in her presentation, which made the topic very interesting. It made me more aware of people with dyslexia and what I might do to help
-CSest: Defence Forces Australia
Excellent, clear and informative. Karen was very empathetic in her presentation, which made the topic very interesting. It made me more aware of people with dyslexia and what I might do to help
-CS
Karen Starkiss © 2010 |Important Information, Terms and Conditions of Use and Privacy Policy