Consultation Service
Schools wanting to make a significant impact on their literacy standards can arrange for a consultation. Contact karen karen@dyslexiasupportservices.com.au to discuss your requirements and

see the end of this page for recent school testimonies
Karen's

W

orkshops

To arrange a workshop for your organisation please direct your inquiry to karen@dyslexiasupportservices.com.au

Workshop 1:

Creating an Inclusive Learning Environment for students with Dyslexia and other LDs: for teachers, class aides, tutors, specialist teachers

'There are widespread concerns that students with dyslexia are not consistently well supported in their specific needs by all schools.' PSD Review Report (2016). For more information.

Workshop 2:

How to Raise Reading Standards for all Children including those with Dyslexia: Develop your knowledge of evidence-based practices, supporting all students to become competent readers including those with reading difficulties and disorders such as dyslexia. We will explore the five key components of a reading program, and the most effective ways to teach reading and spelling.

Workshop 3:

For Classroom Assistants & Integration Aides

How to make the best impact by Supporting the needs of Students with Learning Difficulties in Class, in Small Groups and individually. Can be tailored to primary or secondary or combined

For more information

This workshop can be provided to class aides and specialist teachers within a network of schools

Workshop 4:

Leading Student Achievement Through a Whole School Approach to Response to Intervention (RTI) for school staff including principals, senior managers, teachers & student support services psychologists and speech pathologists

For more information

Workshop 5:

Developing Oral Language and Vocabulary; a whole school Approach- 2 of the 6 Essential Skills for Reading

For more information

Workshop 6:

Curriculum Modification at Secondary School: Supporting Students with Learning Difficulties/Disorders

For more information

Workshop 7:

For Tafes and Colleges; Supporting Students with Learning Disabilities in Your Class

For more information

Workshop 8:

For Employers: Dyslexia Friendly & Inclusive Workplace Supporting all Employees. Produce an Open & Productive Work Environment

For more information

Workshop 9

For Parents: How to Support your Child with Dyslexia and other Learning Difficulties at Home and at School

. This session can be organised by a parent group or by a school.

For more information

To arrange a workshop for your organisation please direct your inquiry to karen@dyslexiasupportservices.com.au

Are you a small school when funding PD is difficult?

Small schools: why not invite staff from other schools to share the cost of the workshop?

Workshop 3 for Class assistants works well when a whole network or group of schools join together
TESTIMONY
Workshop 1
The information Karen shared was very much what staff needed to help them understand what to expect from students with different learning needs. Her ability to make the content of her presentation interesting and fun was really appreciated by the audience. She was able to resonate with each and every participant.
Questions were able to be asked at any time and always answered with clarity. Staff from every school commented to me at the end of the day how much they had
learnt and how much they enjoyed Karen's frank, informative and humorous presentation. Everyone went away from the day with activities and strategies to try with all students, not just those with learning difficulties. Julie Butler Principal- April 2017
TESTIMONY- Workshop 2 DET
Dear Karen and Jason,
Just a short email to thank you for the outstanding work you have done in providing the Response to Intervention workshops around Victoria. The sessions have been attended by over 200 school leaders and Student Support Services Officers around the state and feedback has been very positive. Karen, your skills and knowledge have been particularly valued in the delivery of this work…..
I look forward to continuing to work with you both through the Learning Difficulties and Dyslexia Working Group as we progress the Government's Inclusive education for students with disabilities and additional needs.
Regards Mark
Mark Tainsh
Director, Inclusion, Access and Participation Branch, Department of Education and Training
TESTIMONY - Workshop 7 Employers, MLC Insurance
Karen, from Dyslexia Support Services Melbourne, presented at MLC Life Insurance in Melbourne on the topic of dyslexia to a mixed group of life insurance team leaders in January 2018. Karen's presentation, which I also attended, was incredibly well received by the group of predominantly young managers who took away a greater understanding of how to identify and manage dyslexia in the workplace. The presentation was highly informative, engaging and fun owing to Karen's passion and vast knowledge of dyslexia. Karen also had a one on one consultation with one of our team members who was diagnosed with mild dyslexia following the group presentation. She recommended some effective but simple coping strategies to enable the team member to best manage her symptoms. I would highly recommend Karen to any large business or corporate and would happily have her back at MLC in future years to come.
Regards Elliott Mitchell
Consultant Employment Relations, Health, Safety & Wellbeing
MLC Life Insurance Level 16, 727 Collins St, Docklands 3008 Australia
T
ESTIMONIES School Improvement Literacy
Matt Baron Head of Junior School-Kardinia International College February 2019
Karen has been instrumental in supporting our school to improve literacy outcomes for all students. Using the latest evidence-based research, Karen was able to complete an extensive audit of literacy in our school, and provided a detailed report and recommendations for further improvement. She then worked alongside the school leadership team to create and implement a literacy strategic plan.
Literacy results have improved significantly in the time that Karen has been working with us. Karen has worked extensively with school leaders, teachers and educational assistants to significantly improve literacy standards across the school. Karen has designed and implemented professional learning for teachers and assistants that has led directly to the improvement of student outcomes in literacy. Karen has successfully led literacy workshops for parents which have been extremely well received and supported by the parent community. I would highly recommend Karen as a literacy consultant for any school aiming to improve literacy outcomes for their students.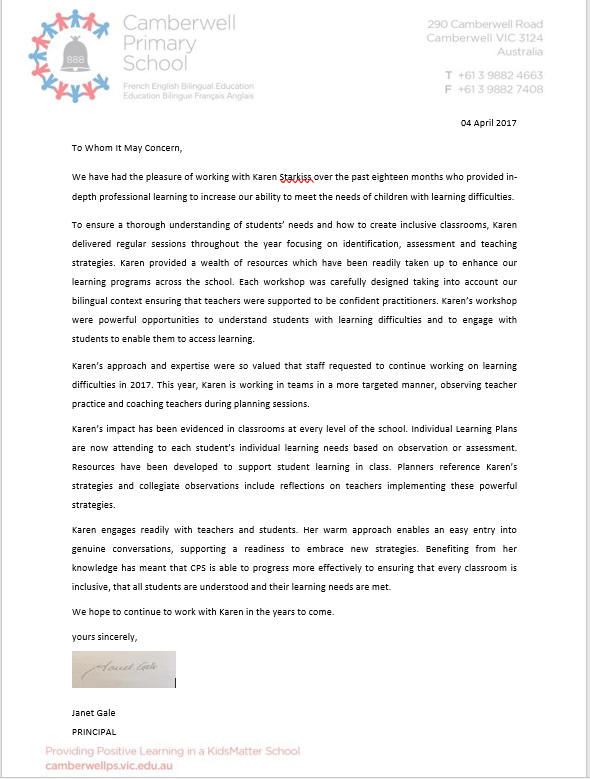 Karen has transformed the way we teach literacy at Kardinia International College.
We have worked with Karen in an ongoing relationship over the past two years. During this time Karen has formed close relationships with staff and has been able to shift the thinking and practices of those staff.
Karen has modelled teaching strategies, worked alongside teachers, planned with teachers and lead professional development sessions.
Karen has worked closely with the leadership team to understand the college, then develop a strategic plan which has supported us in moving forward. She has also worked with us on policy development and decisions relating to assessment. The level of expertise she brings to these discussions is extraordinary.
Karen is extremely thorough in everything she does and gives concrete examples of research based best practice.
I could not recommend Karen any more strongly. She has been a huge asset for us and will be a wonderful resource for any school that is lucky enough to work with her.
Please feel free to contact me anytime if you have questions relating to the work Karen has done with our school.
Geoff Geddes- Deputy Head of Junior School/PYP Coordinator, Kardinia International College
To arrange a workshop for your organisation please direct your inquiry to karen@dyslexiasupportservices.com.au
r teachers, teacher aides, speech therapists and parents who want to teach their stud & children to love reading!achers, teacr ai
des, speech therapists and parents who want to teach their students & children to love reading!
E-mail:
karen@dyslexiasupportservices.com.au
Phone: 0402225051